If you are headed to Sri Lanka, do not miss out on the opportunity to feast on some of the rich, melting-pot cuisine, which is influenced by Sri Lanka's geography. Positioned in the Indian Ocean between Eastern and Western culture, with some of the best spices around the world, you can expect an abundance of flavors that will tempt the most discerning foodie around…
Here are 5 top eateries in Colombo that comes highly recommended by SriLankan Airlines management/directors, which you really should try to indulge your palate in….
Ministry of Crab
Everyone knows Sri Lankan crabs are prized by seafood-lovers the world over…  which ironically meant the very best crabs are kinda in short supply in their native country.
That was until chef Dharshan Munidasa teamed up with celebrity cricket legends Mahela Jayawardene and Kumar Sangakkara to open Ministry of Crab. Located in the restored 400-year-old former Dutch hospital, the restaurant only uses export quality crab in its dishes, with sizes ranging from 500g up to 'crabzilla' weights of more than 2kg.
The crabs are cooked using traditional Sri Lankan recipes including chilli crab and crab curry, while the menu also celebrates other delights from the deep in clay-pot prawn curry and steamed ginger grouper. Liquid refreshment includes the signature small island iced tea etc…
Expect your dinner at Ministry Of Crab to definitely be one of the best experiences in the city. It promises to be really tasty, exciting and fun and of course, pricey as seafood goes..….gulp
Address: Old Dutch Hospital, Fort, Colombo, Sri Lanka
Park Street Mews
Park Street Mews is located in a converted ware house complex with cobble stone paved, pedestrian-only access. Among the complex of  sophisticated restaurants, art galleries and a spa down the alleyway, the Park Street Mews Restaurant is a light-filled, warehouse space at the entrance of the cul-de-sac.
It is quite a favorite place for gastronomes who will  take the chance to relax on the comfortable settees there while enjoying a coffee or drink from the bar, or dining from a delightful combination of continental, tropical and classic dishes included on their menu.
Park Street Mews offers a variety of delicious desserts and a home made ice cream that proves irresistible to the most discerning taste buds…
Address:50/1, Park St, Colombo 00700, Sri Lanka
Paradise Road Gallery Café
www.paradiseroad.lk/restaurants/paradise-road-the-gallery-cafe
The Gallery Cafe is a very inviting cafe situated at the former office of Sri Lanka's renowned architect, Geoffrey Bawa. Because of it's location and classiness, this restaurant attracts some of the world's top designers, artists and many heads of state.
Choose to dine indoor or alfresco. The menu at Gallery Cafe is an combination of a few of cuisines which include Western, Italian, Asian and of course some locally inspired dishes like their popular black pork curry (not for us Muslims, I know, but if you are not Muslim and reading this, you might like to try it….)
Address:2 Alfred House Road, Colombo 00300, Sri Lanka
Waters Edge Japanese restaurant
Serving up Japanese fusion cuisine, Ginza offers the best of Japanese dining with an accent on Asian flavours. You can indulge in some Japanese fine dining at its most elegant where each ingredient has been painstakingly prepared for the ideal combination of taste and presentation.
Ginza provides an array of culinary techniques from traditional sushi and sashimi platters to more interesting experiences such as alfresco teppanyaki and nigiri including the extensive Japanese wine Sake selection for corporate or even more intimate meetings.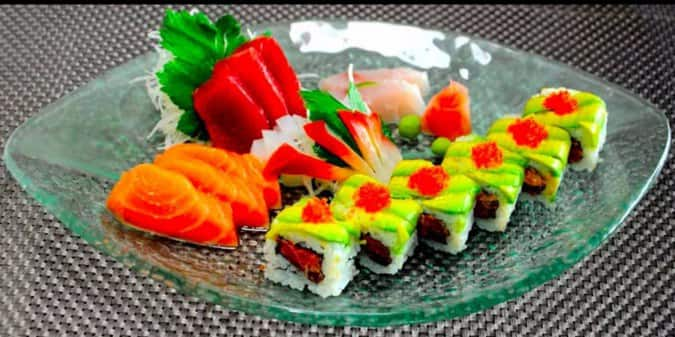 The place is quiet and pleasant with classy interiors .The Ginza offers a gastronomical experience like no other. This unique restaurant offers ultimate meals with its mouth-watering selection of flavours to satisfy any taste, any mood , any day.
Address: Sri Jayawardenepura Kotte, Sri Lanka
Kaema Sutra
Located on the ground floor in the heart of the Arcade at Independence Square, Colombo 7, is Kaema Sutra, meaning The Art of Food.
The restaurant is an enterprise of the maestro chef behind Ministry of Crab, Darshan Munidasa and the Sri Lankan international film actress Jacqueline Fernandez.
Kaema Sutra has a menu highlighting contemporary Sri Lankan dishes with a modern take on flavour.
The décor is a combination of colonial artefacts, wooden furniture, and tradition incorporated into modern style. The Miris Gala, at the centre of the restaurant, is not just ornamental but used by the staff for the preparation of sambols.
Address: Independence Ave, Colombo 00700, Sri Lanka
SriLankan Airlines has double daily flights out of Kuala Lumpur to Colombo. It is just a 4 hour trip from KLIA to the Bandaranaike International Airport
For more info and for some unbelievably affordable packages via business class, 5 star hotels and transportation via air conditioned luxury car , check out: www.srilankan.com/my
Note:Pictures all taken from google, credit belong to their rightful owners and do not belong to me.. used only for illustration purposes.