I love traveling and discovering interesting and fascinating places in the world and it wasn't until recently when I realize that we do have some very fascinating places of our own, which I am sure many of us Malaysians also did not quite know about….
And so, here I am sharing 10 of Malaysia's best kept secret destinations, so when you are looking for some adventure and something unique, you know where to go….please bear in mind these are in my opinion…
1. Pulau Sembilan, Pangkor, Perak
Close your eyes and envision a seaside that is luminescent and glows…. Yes, if you know it, you'd probably be thinking of Puerto Rico's Bio Bay or the Maldives' Bioluminescent Beach which are famous sites in the world to see this. But did you know we do have our own version….at an island off Perak?
Yes, you can find it at the Pulau Sembilan archipelago of nine islands, just about 50km west of Teluk Intan,  nicknamed Blue Tears beach, where the water glistens like stars in the sky.
Pulau Sembilan's "blue tears" have been commonly linked to certain phytoplankton which uses bioluminescence as part of their defence mechanism to escape predators. Watch carefully and you can see a few of these light-emitting dots each time the waves spread their waters over the shore. If you want to see these blue tears at their best, the locals mentioned that the best time would be in November and March.
2.Sasaran, Kuala Selangor, Selangor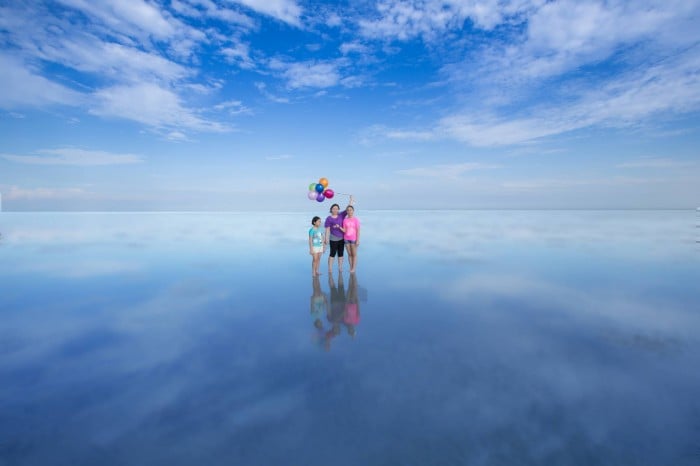 You have probably heard about the Salar de Uyuni in Bolivia a.k.a. the world's largest mirror… and well, guess what, you do not have to travel all the way to South America to experience it when we have a similar one right here in Kuala Selangor, Malaysia.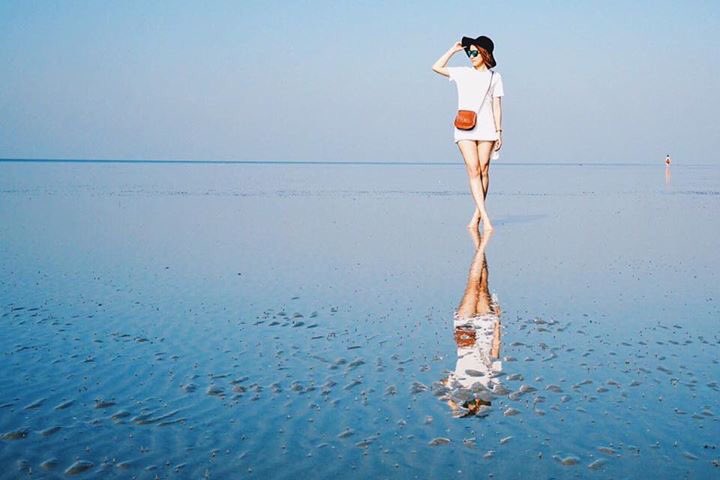 Sasaran was just recently unearthed by local media and travel bloggers a few months back, after being one of the best kept secret within the area, only known to the nearby villagers. So what are you waiting for? Book a tour, bring your camera and be the first few people to witness this masterpiece of nature at Sasaran… like wise… there are certain times only which you can view this magnificent place as you have to wait for the right tide and moment…
To get there you have to get to Kuala Selangor to one of the tour operators who will bring you there…
3. Taiping Lake Gardens, Taiping, Perak
The magnificent Lake Gardens here had been acknowledged by the government as the most beautiful public garden in Malaysia.
The man-made lake, remnants of a mining pool, has been expertly designed and landscaped into grounds that are so scenic they take your breath away….
The roads bordering the Garden are lined with ancient rain-trees with twisting gnarled branches that arch right across the road to slope down and dip into the lake. I remember driving under these arches and marveling at them even when I was a kid…
These trees do somewhat appear like an enchanted, petrified forest making the scenic beauty of the Taiping Lake Garden at par with some of the best in the world.
4. Rainbow Waterfall, Sungai Lembing, Pahang
Most of us are fascinated whenever we catch sight of a rainbow… So what's amazing about the Rainbow Waterfall is that it is almost always consistently adorned with one.
Located deep within the hills of Sungai Lembing, it is about less than an hour's drive from town and is accessible by a 4WD which is easily booked from local transport agents. Maneuvering through the rocky terrain with your best friend will give you a feeling of adventure….
5. Sipadan, Sabah
Sipadan has been voted as one of the top five dive sites in the world by divers around the world… after all this untouched ecosystem brags of more than 3000 species of fish and hundreds of coral species.
Did you know that you can circle the island on foot in just about 25 minutes… but amount of diverse marine life it attracts from the vastness of the open sea will blow your mind…
Getting there is also pretty easy…. Head to Semporna town, then take a 40-min speedboat there to Sipadan.
6. Desa Dairy Farm, Kundasang, Sabah
Let me bring you to the local version of  'New Zealand' and yes, it is located in Sabah…. Do be sure not to miss visiting the Desa Dairy Farm as it offers you  one of the most spectacular scenery found in Malaysia. The 199 hectares cattle farm surrounded by white fences is just so instagram-worthy and a heaven for photographers….
And guess what…. it is the perfect destination for  you and your kids to engage in fun activities such as feeding calves and goats as well as learning about how milk is processed.
It is an approximate 3-hour drive from Kota Kinabalu, and is located at the foothill of Mount Kinabalu.
7. Mossy Forest, Mount Brinchang, Pahang
Mossy Forest is at Cameron Highlands or specifically along the trail from Mount Brinchang heading to Mount Irau.
You can use google map or any other navigation apps and type Mossy Forest and for sure you will be directed to the location. How easy peasy… hehehe … but well… err… the hard part is the hike…It can be pretty challenging getting there and definitely requires strong will and motivations..
But I swear when you walk into the mossy forest, you will feel like you have entered another magical dimension as the moss covers almost everything in sight. All the trees and branches were literally mossed up.
8. Niah Caves, Sarawak
Cave Nyah (Niah) very ancient and spectacular place… It was here the oldest complete human skeleton was discovered in South-East Asia. This beautiful cave was where prehistoric humans have had sanctuaries and the many interesting monuments have been found.
You can also view some pretty interesting ancient cave drawings/carvings on the walls of the cave….
9. Bako National Park, Sarawak
Bako covers the northern tip of the Muara Tebas peninsula, an area of 27 sq km.  Despite its seemingly small size, Bako contains a wide range of vegetation – swamp forest, scrub-like padang vegetation, mangrove forest, dipterocarp forest, delicate cliff vegetation and more. Bako also contains a rich variety of wildlife and a coastline covered with small bays, coves and beaches.  Visitors to Bako have a high probability seeing wildlife such as long-tailed macaque monkeys, silver leaf monkeys, wild boar, squirrels and monitor lizards.
You can also catch sight of  the rare and unusual proboscis monkeys on trails along Telok Delima and Telok Paku or the mangroves at Telok Assam.
All the trails have a great variety of vegetation, from mighty 80-metre dipterocarps to dense mangrove forest.  Carnivorous pitcher plants are found on the Lintang trail.
Bako also has some good white sand beaches that provide perfect resting spots in between jungle treks.  All of the beaches are bordered by limestone and sandstone cliffs, and the action of the sea has left some remarkable rock formations, such as the famous Sea Stack.
10. Tanjung Resang beach, Mersing, Johor
A secluded beach in Mersing, Tanjung Resang is perfect for a blissful solitary getaway….Tanjung Resang's main attractions are its beach and serene surroundings…
Nature lovers, hikers and trekkers will enjoy Tanjung Resang for its many untouched areas, its rainbow-hued flora and fauna. In fact, snakes, otters, monkeys, wild boars, flying foxes, monitor lizards, eagles and even porcupine, all are regulars in this unique region that seems to be frozen in time.
Tanjung Resang area is also well sheltered from the elements, making the beach and the sea an amazing place for sailing, scuba diving, free diving, skim boarding, wind surfing, kite surfing, stand up paddling and yea… fishing….
Head to Mersing. After crossing the Mersing River, you can just follow the "Tanjung Resang" roadsigns to your destination…
… so what did you think about it…?? I am sure there are many more interesting secrets around to be unearthed which we have not yet done so yet,  so let's do take some time to go check them out sometime…….after all they are 'dekat je' for us… hehehe and a great adventure for the visitors to our lovely country
Pictures credit to rightful owners, taken/'borrowed' from Google, Wiki Travel, Tanjung Resang, borneo adventure, tripadvisor, amazingniah.blogspot.com, islandinmalaysia, fishyology.com, tripzilla.com,  gowhere.my, pinterest.com, greentearedbean, says.com, tourism malaysia, sipadan.com, sabahbooking, nadzirahata.com, visitcameronhighlands.com, shbc0616.blog163.com