I just came back from a little trip to the gorgeous island of the Gods… and it was definitely idyllic…
The flight took 2 hours 50 minutes on the Indonesian AirAsia and we got to our  destination safely despite having to undergo a rather bumpy ride since there were just so many of those cotton candy looking clouds in the sky during our trip there…
Bali is a little hard getting around since there is no subways or trains, so the only way to get out from the airport is by getting one of the taxis which cost IDR100,000 -150,000 to Sunset Road Kuta…in my case.. we got our ride out there at IDR90,000 since I tried to book a  grabcar but the airport WiFi failed me once I got out of the hotel and lost contact with the grabcar driver, and my traveling companions decided to hire one of those cars instead…
Yes, you can hitch a grabcar for about less then half the price IDR40000… if you like but make sure you have ready internet access to your smartphone and you are prepared to walk some distance away as the other cab drivers can be a little bit territorial around the airport area…
And so that was how I got to my hotel, the 7 Days Premium Kuta located along Sunset Road Kuta.. it is a pretty convenient hotel with shops within walking distance..
The hotel is a 3 star hotel with a lovely pool, and nice rooms… we checked in without any problem thanks to TouristGuide.my who organised the free and easy trip for us, which covered our flight via AirAsia and our hotel stay.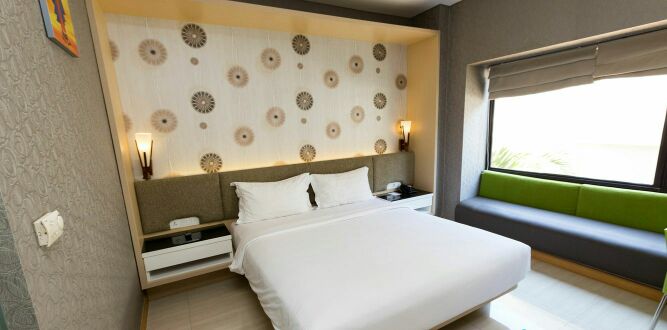 My room faced the main road and the queen sized bed was definitely cosy. The hotel stay came with a breakfast… but it is just a simple meal of rice, vegetable, omelette and chicken dish, toast bread with butter and jam, watermelon and papaya , coffee and tea… or on day 2 it was rice, fried maggi noodles, sambal brinjal, chicken curry, toast bread with butter and jam, watermelon, coffee and tea….filling… so if you want more, head out and go eat whatever you want… there is a Circle K convenience shop just right next to the hotel on the left or an Indomaret convenience shop a little bit more further away towards the right…a couple of blocks or about 10 shoplots…
We decided to get a driver and a car after checking through the tours where a half day tour would have cost IDR500,000 and a full day tour would have cost IDR700,000.
So I WhatsApp Pak Yuyun, a driver my elder daughter recommended and which she used during her last trip in Bali. Pak Yuyun could not make it so he sent Pak Ali. They charge just IDR400,000 for a whole day, and I highly recommend them if you need a personal driver to bring you around…especially if you are traveling 2 or 3 people in a group.
Pak Yuyun's number is +62 817-9764-006 and Pak Ali's number is +62 852-2514-3779
Look up Pak Yuyun at his Facebook ….
Having settled our getting around problem, we then headed out to Kuta beach and hahaha… our first stop was none other then Hard Rock Cafe Bali…
When we were done, we walked along the little alleys and lanes until we arrived Legian Street where the Ground Zero Monument stood, in memorial of the 202 lives that were cruelly snatched away when those extremist group bombed the Sari Club there..
We then headed to the Fipper Indonesia shop and got ourselves some flipflops…and dang.. Fipper is a Malaysian brand but why do we not get all these flipflop selection in Malaysia..the range here is vast and varied and I am envious…
We then headed over to a small alley and had some nasi goreng/ fried rice while I indulged in what is a humongous coconut which cost me IDR20000
Since it was getting late, we then took a grab car back to the hotel…and that was the end of our 1st day in Bali….
This 3 day 2 night free and easy trip was made possible by www.touristguide.my 
https://www.facebook.com/myTouristGuide/
Do check them out for some amazing deals on travel…..