The Netherlands or Holland is best known as a land of windmills, tulips, and canals and of course, friendly people….. they are also a progressive 21st-century nation. It consist out of 12 provinces. I was there in Holland for more then 2 months when I was much younger and that was ages ago back in 2000 when the currency was still guilders….
No visit to Holland is complete without a visit to the capital city, Amsterdam, and anyhow you will always fly into Amsterdam Airport Schiphol  which is one of the best and busiest airports in Europe, and listed in the top 20 busiest airports in the world…
And it has been refurbished with an even more state-of-the-art interior design where the heart of the terminal is now unlike any other lounge in the world… passengers here can explore seven thematic worlds from 'Luxury' to 'Family' and from 'Modern Dutch' to 'Care and Wellness'. The Modern Dutch World is were you can actually taste, smell and look at Dutch culture or buy fresh flowers… and you can just take time and relax in  a serene and natural setting at the 'Care and Wellness world.. and you get the idea….
Holland is pretty basic. They do not have high mountains nor or many high skyscrapers. The land is flat, under sea level, their buildings are not high but they sure are so very attractive. Holland is also known as the Gateway to Europe. It is safe and secure and easy to travel around. I for one would attest to this fact since I was practically running all over the place then and mostly alone.. and here are my top 5 cities/towns I visited and would highly recommend…
DELFT
When I was in Holland, Delft was the place I stayed in. This would be because I was then living in the living room of my Dutch friend's tiny apartment then… I loved the the Renaissance style City Hall building on the Markt Square, the time-burnished canals and cobblestone streets and the serenity Delft possessed.
Delft is a college town and yes, I have had the opportunity to sneaked in the TU Delft a couple of times or more just to use their computers… my Dutch friend brought me… hahah..
I would love to visit the stores, the apotheek /pharmacy and just indulge in a jus d'orange /orange juice and some rarebits… err… cheese and turkey sandwiches … hahaha, or buying some yogurts, bread, candy or stroopwafels….
And yes, it was from Delft where I ventured and explored the rest of Holland in my 2 ½ months stay there….
DEN HAAG
Den Haag as I am used to call it when I was in Holland  or The Hague is definitely a very extraordinary places to visit in the Netherlands. Known as the Royal City by the Sea due to its Dutch Royalty citizens, visitors can enjoy spending time along the North Sea in the warmer months at the sea town of Scheveningen.
But seriously even in winter, I loved nothing better then to take the train from Delft to Scheveningen where it was once a run down pier…I am sure it is now a much classier and more beautiful place then what it used to be.. but even when it was just a run down pier, I loved the place loads…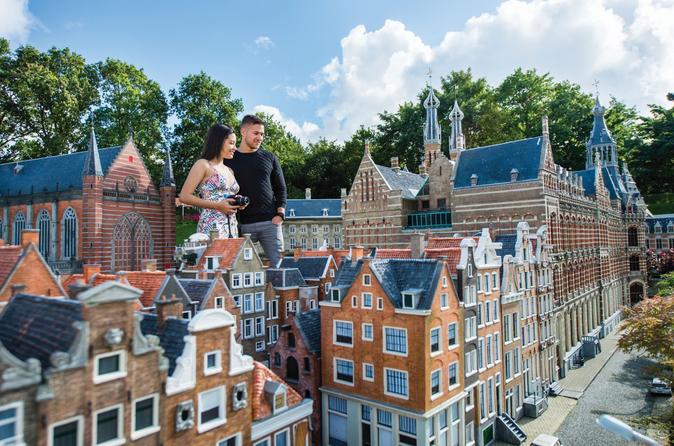 Another place of interest you should not miss in Den Haag  would be the miniature city, Madurodam.. it is a theme park that shows how Holland has grown. It is also where you can find all the highlights of Holland in one little place and most suitable for all ages..
Den Haag is Netherlands' seat of government, home to the Dutch royal family, and site of the International Court of Justice. Most foreign embassies are located here, too, and so it is a little bit of a confusion and wonder why it does not have the honor of being the national capital.
Take the time to explore Den Haag a little and you'll encounter more than 25 public parks, plus a maze of narrow winding streets where contemporary architecture sits comfortably and unabashed beside grand 17th-century mansions. For a time out, relax at sidewalk cafés and watch as they fill with a stream of civil servants and diplomats spilling out from the offices all around the 13th-century Ridderzaal (Knights' Hall), the centerpiece of the parliament. If you are an art lover, be sure to visit the galleries and museums here at Den Haag and you'll find no end of masterpieces by the likes of Rembrandt and Johannes Vermeer, or the dazzling optical conundrums of Dutch graphic artist M. C. Escher, whose logic-defying creations appear to bend the laws of physics.
ROTTERDAM
Rotterdam which was once a mere 13th century fishing village, is now Holland's most modern city today with the most sky scrapers then anywhere else in Holland. I know I enjoyed staring at the Erasmus Bridge which was pretty imposing, and highly regarded as a work of art, looming over Europe's largest harbor.
The Museum Boijmans Van Beuningen is not to be missed, with amazing masterpieces by Dali, Van Gogh, Bosch, and Rembrandt. Rotterdam is the most modern city because the old town disappeared overnight on May 14, 1940, when Nazi bombs devastated an area greater than one square mile, destroying more than 36,000 buildings in just a matter of hours.
Since then, a new landscape of concrete, steel, and glass has risen like a phoenix from the ashes, and today this world port is home to some of the 21st century's most architecturally important creations. The city skyline—especially in the areas around the station and by the Maas on the Kop van Zuid development—is constantly changing, and as each year passes it lives up more and more to its billing as "Manhattan-on-the-Maas." Many of the new buildings are commissioned from top-drawer contemporary architects like Rem Koolhaas and Sir Norman Foster, and each has a striking identity.
Rotterdam has become the world's largest seaport because of its strategic location on the deltas of the Rhine and Maas rivers. More tons of shipping than through all of France combined pass through its harbors and the enormous Europoort. Because of the rapid expansion of the port, there are many migrants from Italy, Spain, Greece, Turkey, Morocco, Cape Verde, and the Netherlands Antilles, that has turned Rotterdam into one of the most ethnically diverse cities in Europe.
GRONINGEN
Groningen was where another close friend of mine from Malaysia migrated to. So I visited her then and also to check out the town there…
Groningen is basically and student city with approximately 50.000 students in higher education and university out of a total population of 200.000. With around half under the age of 35.
Groningen  is also a very fun festival town, with everything to do with sports, pop music, classical music, or theatre, the international Film Festival Rotterdam in Groningen… but if you but just walk around the town, you will find it endearing  as I did as well..
AMSTERDAM
Amsterdam one of the most laid-back city in the world… offering visitors the unrivaled beauty of the 17th-century Golden Age city center with plenty of museums and art of the highest order. It is definitely one of the world's most appealing and offbeat metropolises in the world.
On nearly every street, you can find old and new side by side—quiet corners where time seems to be holding its breath next to streets like neon-lit Kalverstraat, and Red Light ladies strutting by the city's oldest church.
Amsterdam has as many lovely facets as one of those Gassan 121 diamonds with 121 facets polished by Gassan Diamonds in Amsterdam itself… so yes, be sure to visit Gassan Diamonds for a free diamond tour while you are there and take the opportunity to hold /touch one or two of it…. Or /and also the Royal Coster Diamonds
Lots of tourist would never resist the charms of the Amsterdam Red Light District which leaves nothing to the imagination, whether it is to indulge in the sins or just merely out of curiousity…
…the  Red Light District in Amsterdam would be where women, of all nationalities, parade their wares in red-fringed window parlours, many ready to offer more than a school boy peep-show in a private cabin for the right price.., not too different from Thailand….
You probably will find packs of men, young and old , couples holding hands and pointing in shock of it all, giggling ladies, some sex clubs, sex shops and the sex museum… hahaha
Amsterdam has the largest historical inner city in Europe and one of Europe's great walking cities, with so many of its treasures in the untouted details: tiny alleyways barely visible on the map, hidden garden courtyards, shop windows, floating houseboats, hidden hofjes (courtyards with almshouses), sudden vistas of church spires, and gabled roofs…
However, keep in mind that those XXX symbols you see all over town are not a mark of the city's triple-X reputation, yeah, to be honest, I thought so too… but actually, they're part of Amsterdam's official coat of arms—three St. Andrew's crosses, believed to represent the three dangers that have traditionally plagued the city: flood, fire, and pestilence.
With over 1500 fabulous monumental buildings and just as many bridges, visitors to Amsterdam spend much of their time exploring the eccentricities and marvelous museums dotting the 60 miles of canals across the city…
Of course, you cannot miss the Anne Frank House and the Rijksmuseum Museum which are the most popular stops for history and art seekers, while the Prinsengracht area is one of the best places for shopping, gallery viewing, pub crawling, and checking out the unique coffee shops in Amsterdam.
Don't forget a visit to the Batavia Stad Amsterdam Fashion Outlet, which is a paradise for fashionistas and shopaholics….
ZAANDAM
Zaandam is only 10 minutes by train from Central station. Zaanstad is an extremely interesting place from an historical and architectural perspective with a considerable number of traditional wooden houses and windmills found in and around Zaanstad – including the world-famous Zaanse Schans open air museum.
Zaanse Schans is another must visit place for tourists and visitors to Holland because it is quite typically Dutch, with museums to visit, old traditional crafts, and check out how cheese are made at the Catherina Hoeve authentic 17th century cheese farm or how they make clogs at the Kooijman Souvenirs and Clogs…
Of course, the ultimate way to fly into Holland and really indulging in Dutch hospitality would be flying there via KLM Royal Dutch Airlines, the world's oldest airlines. KLM offers 10 weekly flights from KL to Amsterdam-Schiphol which are direct daily night flights and three weekly day flights…
Should you need a tour guide for special excursions, customized itineraries, extended tours, hotels and restaurants, transport solutions and more, check out DLC Travel Associates…
And so, these are my 6 places which I have been to before, though it was many years ago, and many has since changed and which I highly recommend… and these places have also been embedded in my fond memories though I pray for a chance to revisit the new Holland again…
Pictures taken from google.com, tripadvisor, gassan diamonds, dlc, klm, schiphol airport etc..etc… and belong to their rightful owners… they do not belong to me… am borrowing this for illustration purposes only